RUNHUNDRED
Finishing Western States 100 Heart over Head
Herz über Kopf - Meine ungewöhnliche Western States 100 Geschichte
---
Update 2023-03-20
Book updates have moved. Sign up for Das Z Letter to stay up to date.
Update 2023-03-03
Podcast alert. I've been invited to the Runner's World Podcast to discuss Western States training and the race itself.
Update 2023-02-17
I wrote an in-depth story about my Western States 100 experience for Runner's World Germany. March issue 03 out now.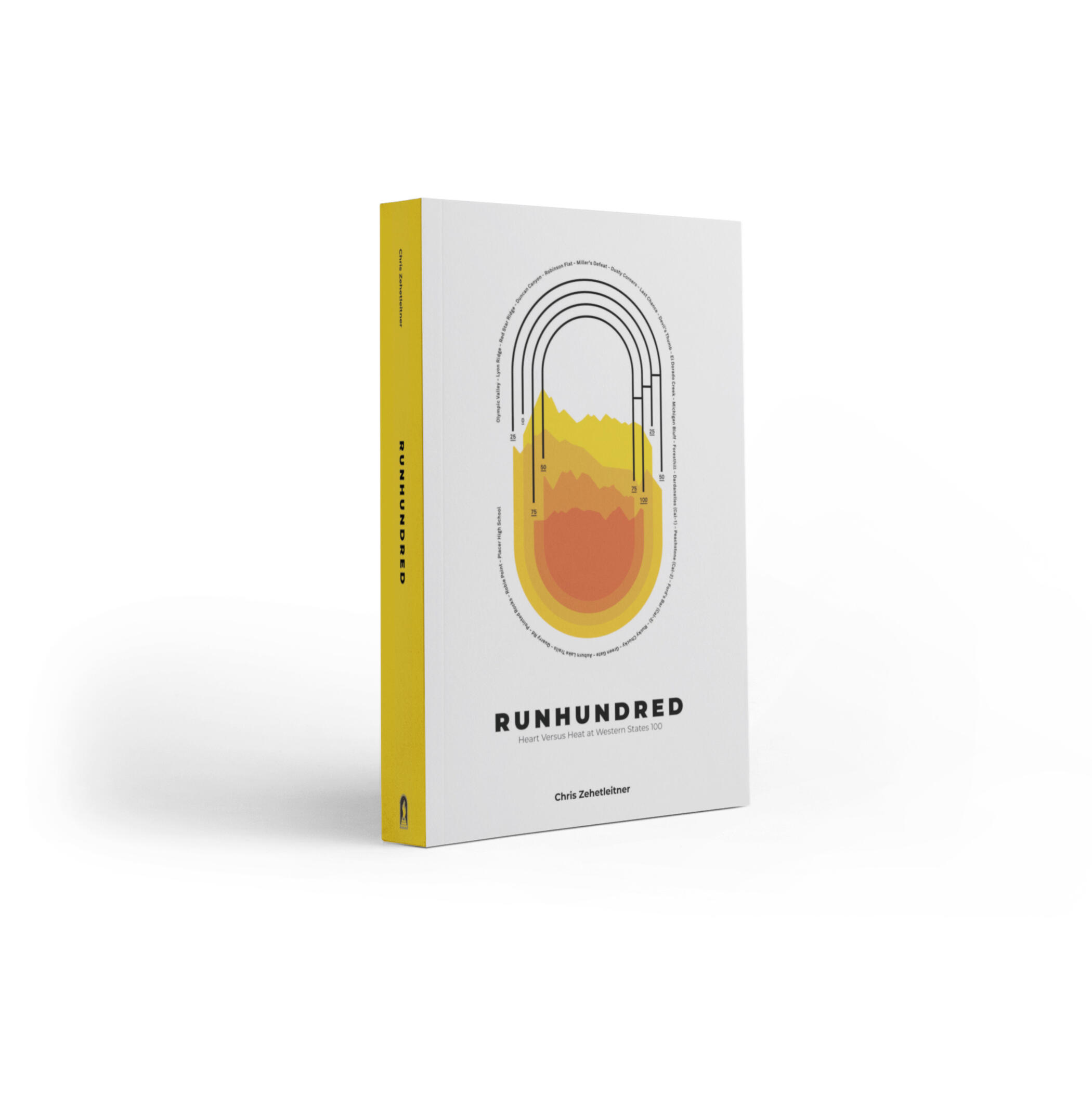 WHAT
Runhundred is a book about the legendary Western States Endurance Run and how it taught the author that finishing a 100-Mile ultramarathon can neither be engineered nor conceived. Numbers and brainwork might be helpful when preparing for such an epic race, but when the going gets tough, you have to switch off your head and run with your heart. Chris Zehetleitner learned this lesson the hard way. But when he did, it not only changed the course of the race, but his entire life.
Runhundred erzählt eine sehr persönliche Läufergeschichte vom legendären Western States Endurance Run. Das Buch beschreibt wie der Autor erkennen musste, dass man einen 100 Meilen Ultramarathon weder planen noch konstruieren kann. Zahlen, Daten und Fakten sind durchaus hilfreich, wenn man sich auf so ein episches Unterfangen vorbereitet. Aber während des Rennens, wenn es hart auf hart kommt (und das wird es), gilt es den Kopf auszuschalten und ausschließlich mit dem Herz zu laufen. Chris Zehetleitner musste das beim Western States 2022 auf die harte Tour lernen. Am Ende hat es jedoch nicht nur den Verlauf des Rennens auf den Kopf gestellt, sondern sein gesamtes Leben.
HOW
In this book Chris Zehetleitner outspokenly shares his deepest thoughts and most profound emotions about his first 100-Mile ultramarathon. All the way from unexpectedly winning the Western States lottery to crossing the finish line on a High School track in Auburn, California as a different person.He does this with rather untypical honesty and disclosure. Runhundred is neither a self-congratulating runner's success story, nor an impersonal tipps and tricks guidebook. It is a well-grounded, genuine document of what ultra running is all about. As a sport, but also as an enrichment to life.
In diesem Buch teilt Chris Zehetleitner seine sehr persönlichen Gedanken, Erfahrungen und Emotionen in Bezug auf seinen ersten 100-Meilen Ultramarathon. Begonnen mit dem völlig unerwarteten Erfolg bei der heiß umkämpften Western States Teilnehmer-Lotterie, bis zum Überqueren der legendären Ziellinie auf dem High School Sportplatz in Auburn, Kalifornien.Der Autor beschreibt seine Erlebnisse mit außergewöhnlicher Ehrlichkeit und Offenheit. Runhundred ist keine selbstbeweihräuchernde Läufer-Erfolgsgeschichte. Ebenso wenig ist es ein emotionsloser Tipps & Tricks Ratgeber für Ultraläufer. Runhundred ist eine einzigartig tiefgründige Abenteuergeschichte, die an der großen Frage kratzt, warum Menschen Ultramarathons laufen und wie es sie weit über den Sport hinaus verändert.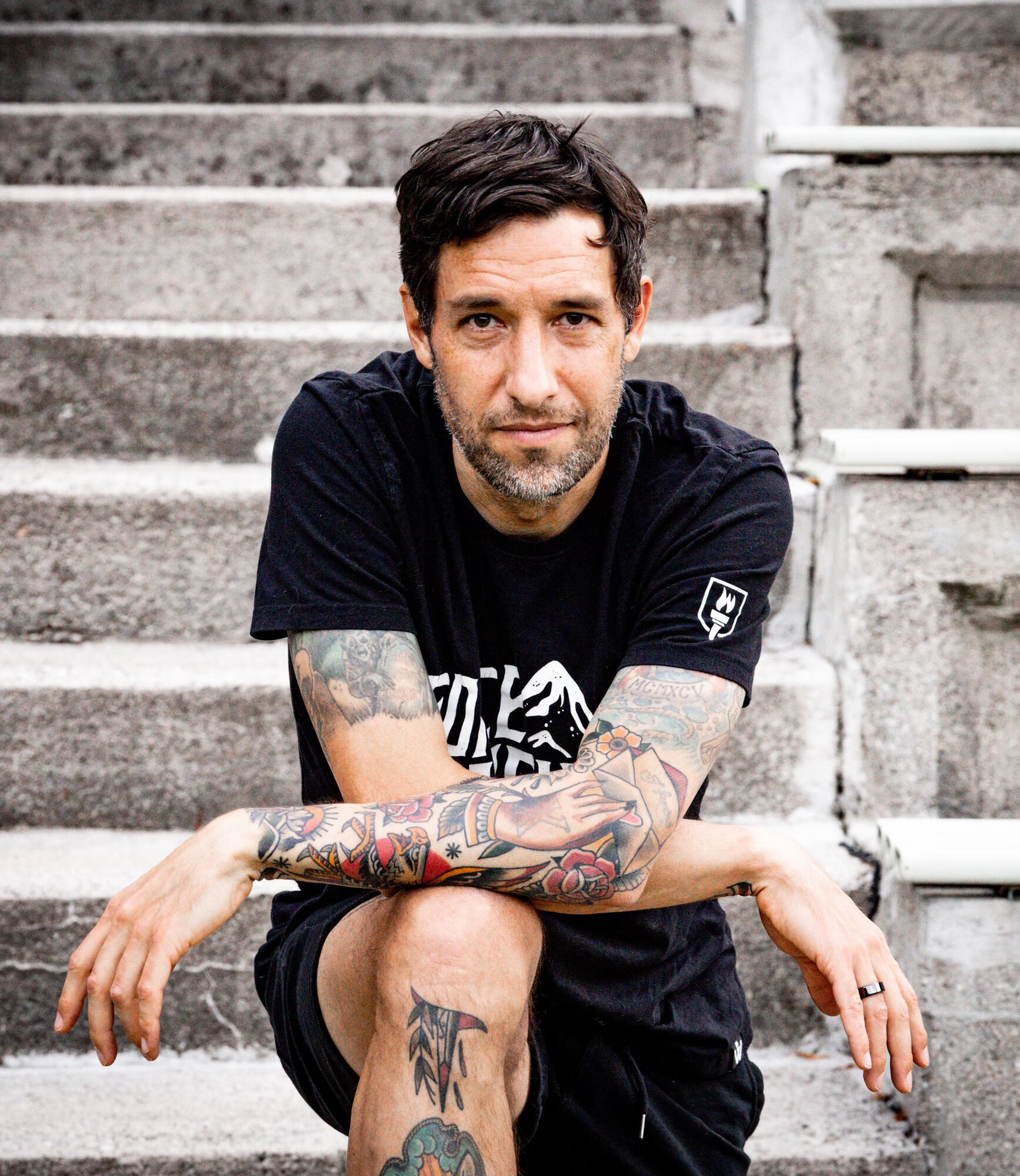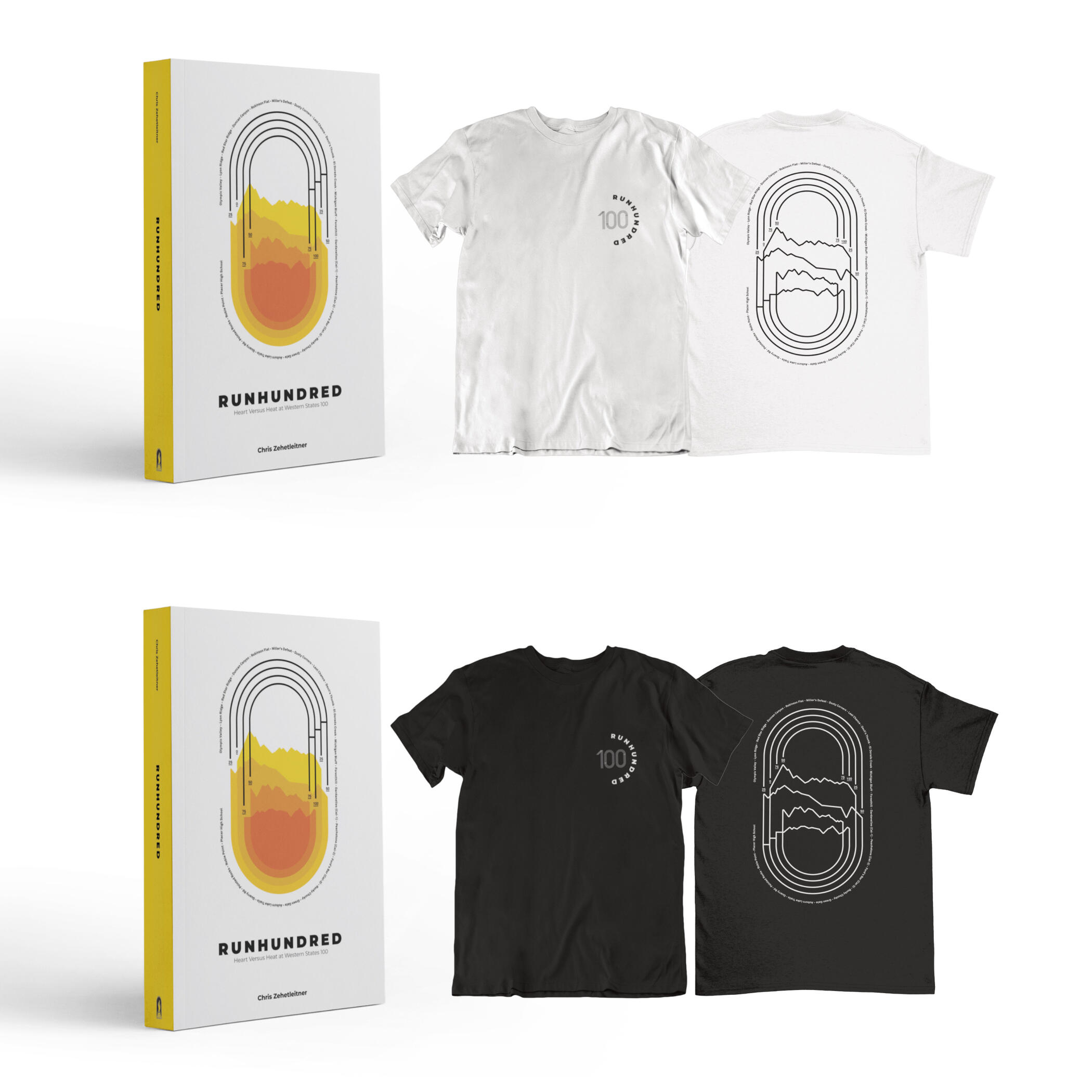 WHY
"Running the legendary Western States Endurance Run can be a life-changing event. At least for me it was. What I learned while running those 100 Miles in the Sierra Nevada Mountains is of inestimable value for me as a runner and human being. While being rather head-centered when preparing for a big race, Western States made me quickly realize, that numbers and calculations would not get me to the finish line. In fact it took me well beyond the point of giving up on the race and myself until I found out how it actually works. What happened to me at an aid station at Mile 65.7, was nothing short of a miracle. It ignited the most intense racing, if not running, experience of my life. And it brought me all the way to Auburn, where my first 100-Mile ultramarathon finish became a reality."
"Den legendären Western States Endurance Run zu laufen kann eine lebensverändernde Erfahrung sein. Zumindest für mich war es das. Was ich während dieser 100 Meilen im Sierra Nevada Gebirge gelernt habe, ist für mich von unschätzbarem Wert. Sowohl als Läufer, als auch als Mensch. Im Allgemeinen eher kopflastig und gut organisiert konnte ich während meiner Vorbereitung auf das große Rennen noch prima mit meinen Strategien, Tests, Auswertungen, Berechnungen und Plänen punkten. Spätestens nach der Hälfte des Western States 100 musste ich jedoch auf niederschmetternde Art und Weise einsehen, dass mir das alles nicht helfen wird, die Ziellinie zu erreichen. Am Ende musste ich mich selbst und das Rennen erst aufgeben, um herauszufinden wie es funktioniert. Was dann mit mir bei Meile 65.7 passierte, ist nichts weniger als ein Wunder. Es entfachte die intensivste Läufererfahrung meines bisherigen Lebens und trug mich den ganzen Weg bis nach Auburn, wo mein erstes 100-Meilen Finish letztendlich doch noch Realität wurde."
"It's true. Comeback stories are no rarity in ultrarunning. Most of us have experienced similar things as I describe in this book. But this is my story and it changed my perception of running and also my life. In retrospect, I can neither say, that I could have easily revived running any sooner than I did. Nor can I say that my race was definitely over at the point where I had completely collapsed, both physically and mentally. But for all races in my future I have learned, that the truth is somewhere in the middle. You might as well just embrace both, the conviction that it's over and subsequently the miracle that it's not. In the meantime the trick is to just keep on moving forward. It's the best thing you can do anyway. May it be in a ultramarathon or in life."(The author, Chris Zehetleitner)
"Stimmt schon, Comeback-Stories sind im Ultralaufsport keine Seltenheit. Viele von uns haben ähnliche Erfahrungen gemacht wie die, die ich in diesem Buch beschreibe. Aber es ist meine Geschichte und sie hat meinen Blick auf das Laufen und mein gesamtes Leben verändert. Wenn ich zurückblicke kann ich weder sagen, dass ich nach meinem körperlichen und emotionalen Kollaps eigentlich hätte weiterlaufen können, noch dass das Rennen für mich definitiv vorbei war. Was ich gelernt habe ist, dass die Wahrheit irgendwo in der Mitte dazwischen liegt. Der Trick ist es, beides zu akzeptieren. Sowohl, dass es vorbei ist, als auch das anschließende Wunder, dass es das nicht ist. Während man zwischen diesen beiden Wahrheiten gefangen ist, macht es am meisten Sinn einfach weiter zu laufen. Das ist das beste was man tun kann. Sowohl im Ultramarathon als auch im Leben."(Der Autor, Chris Zehetleitner)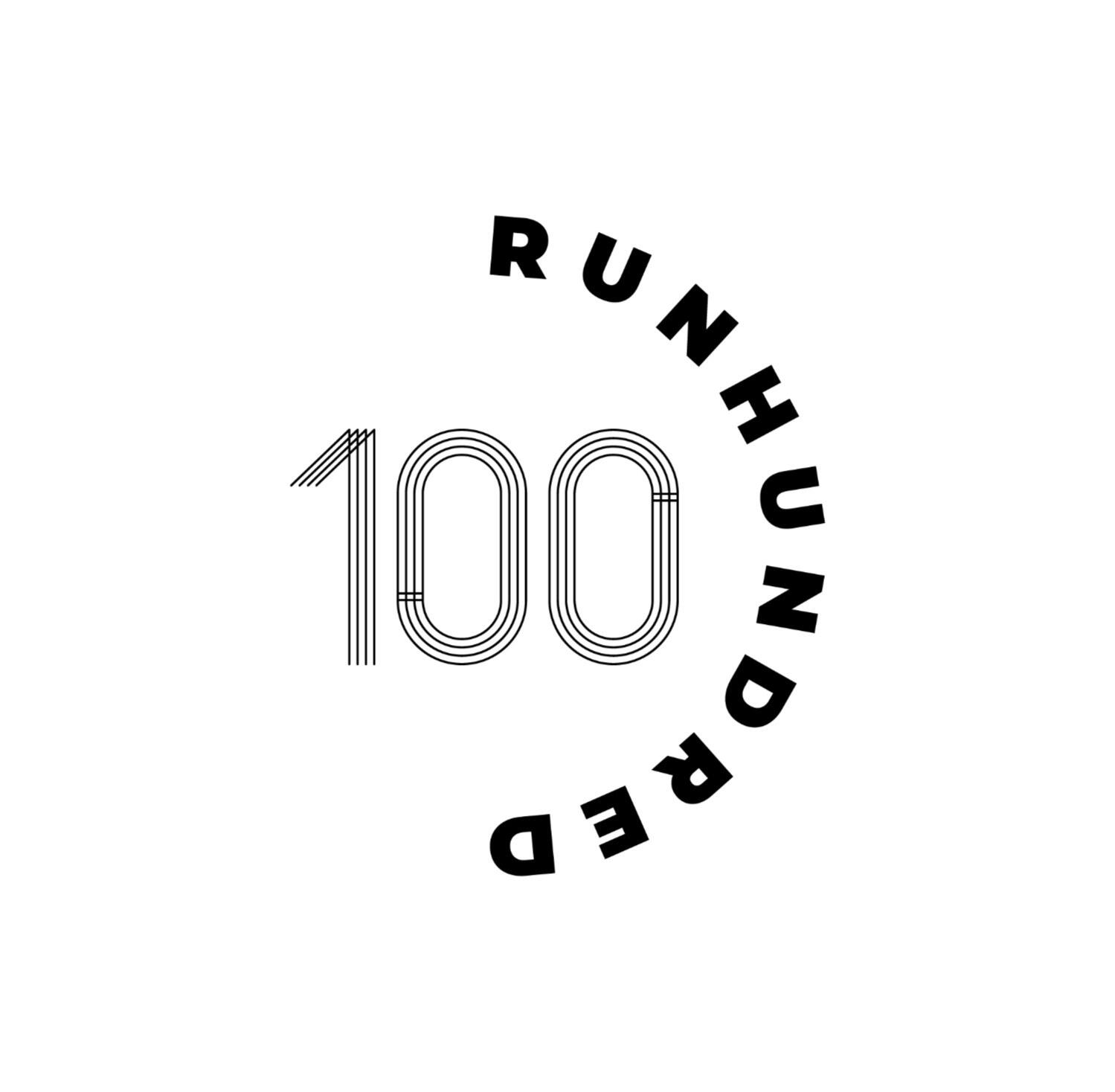 ABOUT THE AUTHOR
Chris Zehetleitner is a 44-year-old writer, ultrarunner, cat lover, coffee connoisseur and former touring musician and music professional from Munich, Germany. He is the founder and CEO of the running clothing brand Willpower and a couple of other more or less visible side hustles. Chris runs the Too Far Gone Blog and occasionally contributes stories to Like the Wind Magazine, his favorite running publication. He started running rather late in his life when he was already 34 and hasn't stopped ever since. Together with his wife Lisa, he is enjoying life and running to the fullest and looking forward to many more exciting running projects to come in the future.
Chris Zehetleitner ist eine 44-jähriger Autor, Ultraläufer, Katzenliebhaber, Kaffee- & Internet-Nerd und ehemaliger Musikschaffender aus München. Er ist der Gründer und Inhaber der Laufsportmarke Willpower und ein paar weiterer mehr oder weniger bekannter Side Hustles. Chris schreibt über das Laufen. Auf seinem Too Far Gone Blog und gelegentlich für das Like the Wind Magazine, sein Lieblings-Laufmagazin.Zum Laufsport kam er mit 34 erst relativ spät. Dafür war und ist die Begeisterung um so größer. Gemeinsam mit seiner Frau Lisa lebt und liebt er das Laufen und freut sich auf viele weitere spannende Laufprojekte und -erlebnisse in der Zukunft.
ABOUT WESTERN STATES
The Western States Endurance Run (also known as "Western States 100" or "Western States") is a 100.2-mile (161 km) mountain race. It is the oldest and most iconic ultramarathon in the world. It takes place each June in the Sierra Nevada Mountains in California. The race course starts at high altitude in the Olympic Valley and gradually descents into Auburn, a small town in Placer County, right in the middle between Reno, Nevada and Sacramento, California.Participants of the race have to climb 18,090 feet (5,500 m) and descent 22,970 feet (7,000 m). It looks doable on paper, but is grueling in reality. Besides running at high altitude and rugged back country terrain, the intense heat is one of the major challenges of the Western States Endurance Run. Temperature can reach up to 104 degree Fahrenheit (40 degree Celsius) with big parts of the race course fully exposed to the sun.The race has a strict 30-hour cut off time to be recognized as an official finisher and receive a bronze belt buckle. Runners who finish the race in under 24 hours receive a silver belt buckle.Since 1984 only 369 participants are allowed to run Western States 100 each year. More than 6000 runners first qualify and then apply for a notorious lottery, selecting only 267 winners to run the race. An additional 102 runners are automatic entrants because they finished top 10 in the previous year, won a golden ticket race, are members of the Board of Directors or have been selected because of their outstanding work and support for the race.Alongside the UTMB in Chamonix, France, the Western States Endurance Run is the most competitive and most sought-after ultrarunning event in the world. Almost without exception Western States sees the most outstanding athletic performances of our sport every year. It repeatedly redefines what is possible in ultra trail running and endurance sports in general. To almost every ultrarunner, it is the biggest dream and greatest honor to be a part of it.
Der Western States Endurance Run (auch bekannt als "Western States 100" oder "Western States") ist ein 100.2-Meilen (161 km) Trail-Rennen. Es ist der älteste und bekannteste Ultramarathon der Welt und findet jedes Jahr im Juni im Sierra Nevada Gebirge in Kalifornien statt. Das Rennen beginnt im hochgelegenen Olympic Valley und endet in Auburn, einer kleinen Stadt in Placer County, zwischen Reno, Nevada und Sacramento.Auf ihrem Weg müssen die Teilnehmer 18,090 Fuß (5,500 m) Anstieg und 22,970 Fuß (7,000 m) Abstieg überwinden. Auf dem Papier durchaus machbar. In der Realität jedoch ein knallhartes Rennen. Neben dem Laufen auf unwegsamen Wegen im Hochgebirge, gehört vor allem die extreme Hitze zu den einzigartigen Herausforderungen des Western States Endurance Runs.  Die Temperaturen erreichen über 40 Grad im Schatten und auf großen Teilen der Strecke sind die Läufer der Sonne schutzlos ausgesetzt.Um am Ende als offizieller Finisher gewertet zu werden und die heiss begehrte bronzene Gürtelschnalle zu erhalten, muss man das Rennen in weniger als 30 Stunden bewältigen. Läufer, die den Kurs in unter 24 Stunden schaffen bekommen eine silberne Gürtelschnalle.Seit 1984 dürfen beim Western States 100 jedes Jahr nur 369 Läuferinnen und Läufer starten. Dem gegenüber stehen mehr als 6000 Bewerberinnen und Bewerber, die sich für die berüchtigte Startplatz-Lotterie qualifizieren. Von ihnen werden gerade einmal 267 ausgelost um am Rennen teilzunehmen. Weitere 102 Startplätze gehen an die Top-10 Finisher des Vorjahres, Gewinner sogenannter "Golden Ticket Races" und Menschen, die den Western States jahrelang auf herausragende Weise unterstützt haben.Neben dem UTMB in Chamonix, ist der Western States Endurance Run das am härtesten umkämpfte Rennen unseres Sports. Fast ausnahmslos jedes Jahr zeigt die Ultramarathon-Elite unfassbare sportliche Leistungen, welche regelmäßig die Grenzen des Ultralaufens und des Ausdauersports neu definieren. Jeder Ultraläufer auf diesem Planeten träumt davon, irgendwann die große Ehre zu haben, am Western States 100 teilzunehmen.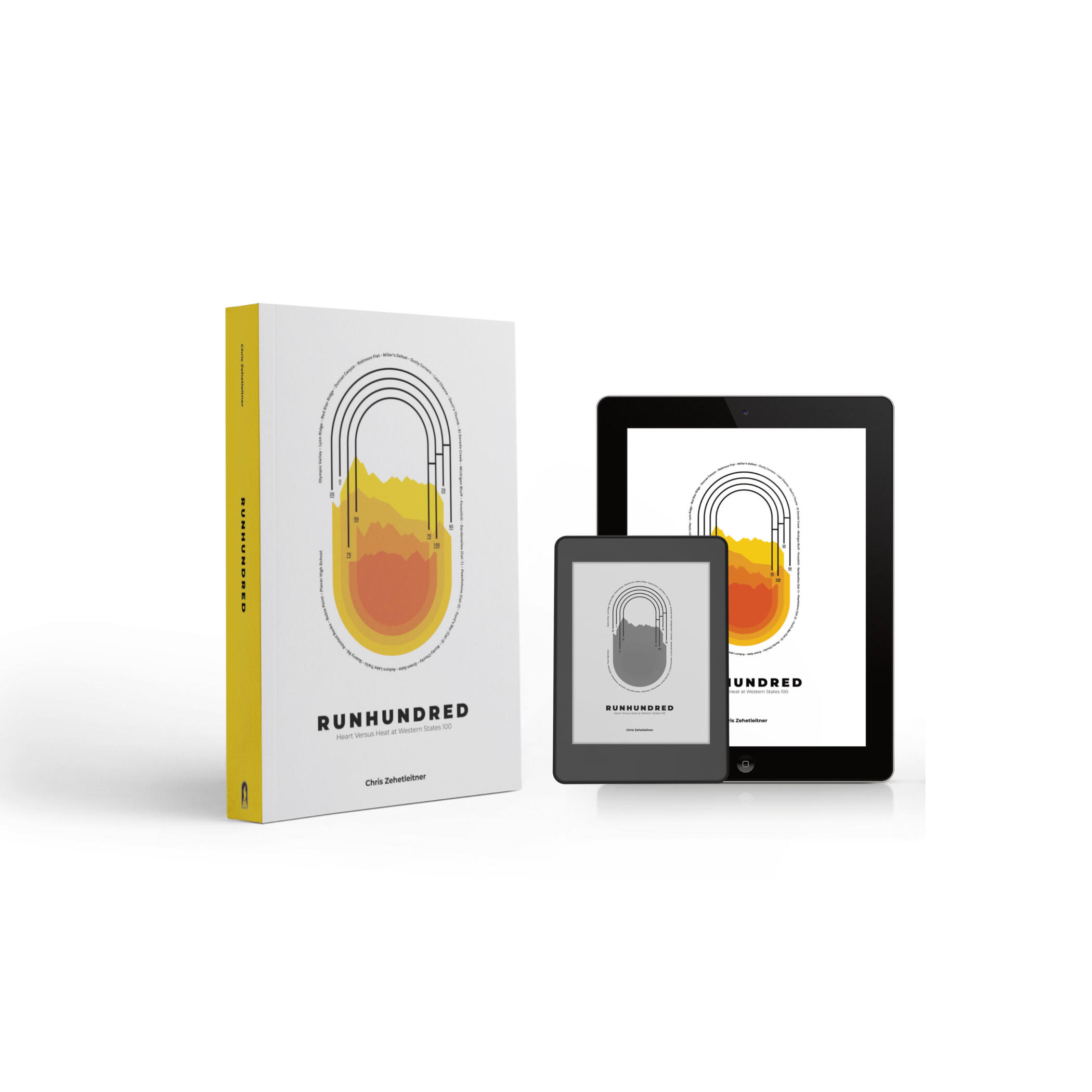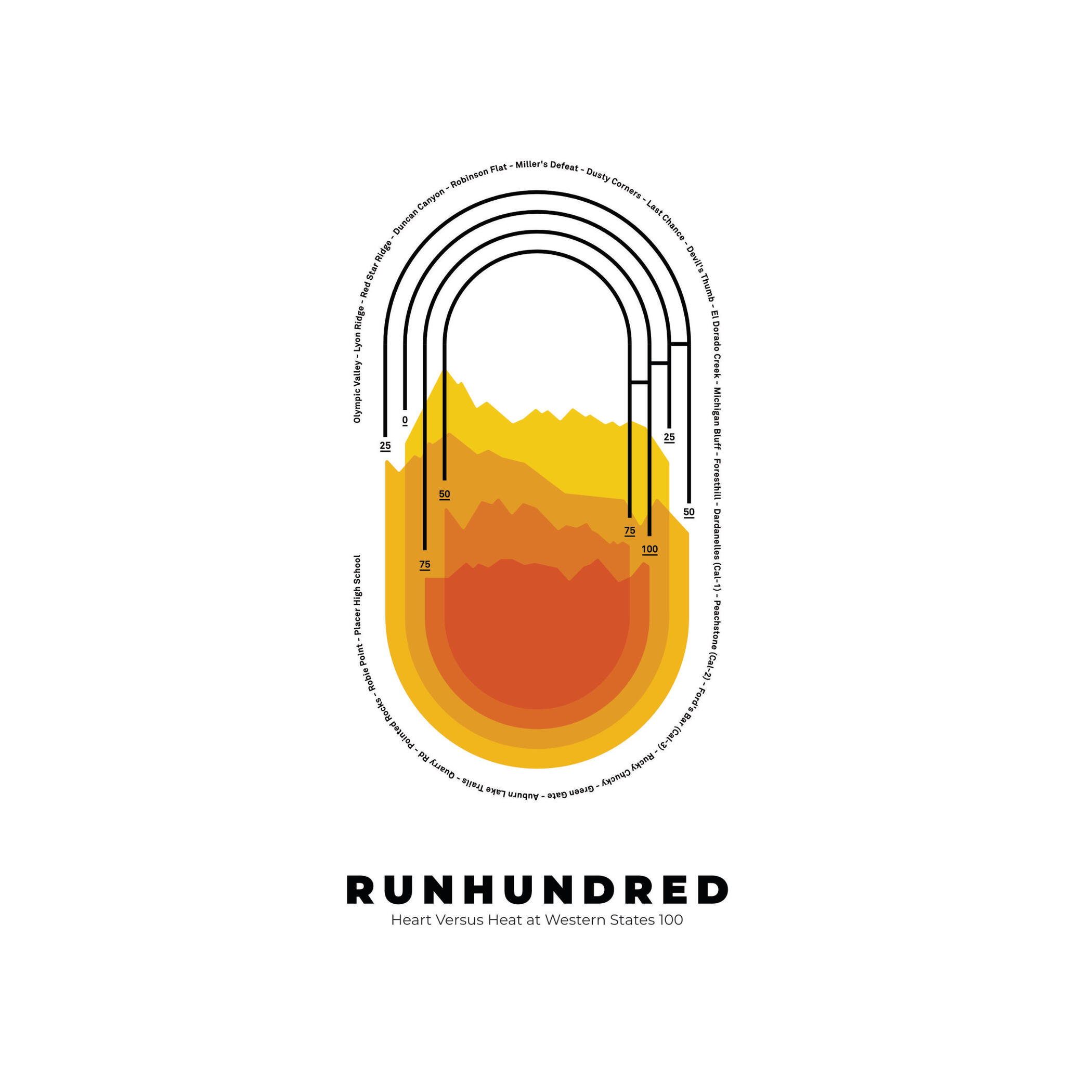 RUNHUNDRED
How I've learned that the Western States 100 should be prepared with the head but run with the heart
© Chris Zehetleitner 2023
Photography by Henning Lenertz, and Marie Keck